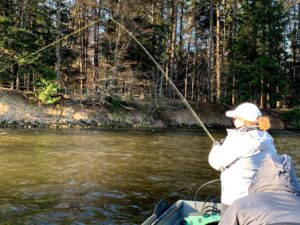 The day was cold, and the wind howled, on occasion, I was warmed when the sun managed to sneak between the clouds. I had been on the river for over six hours and had only caught a small brown trout. It measured no more than twelve inches. Along with that, I had caught multiple stumps, rocks and whatever else I managed to find on the bottom of the river.
My fingers felt swollen as I continue to cast and strip my line back in wrapping it tightly as I tried to maneuver my line in the wind. Cast, strip, cast strip I was getting extremely exhausted. I had already bandaged my fingers where the line had worn through, but I continued. Hopefully that this next cast would be the one and I would be met with success.
I felt the tug and was sure I had caught a tree and started to state this when I felt it – three head wags reverberated up my line, and I shouted Fish-On! I was excited. I sensed that it was big and strong and the battle began to wage. The line screamed as the fish started to run pulling my line and rushing down the river. Suddenly the fish turned, and it was coming back toward me as fast as it had left. I began to reel as fast as I could, then after a moment the fish reversed again and headed back out again. The battle was waging human against fish – I was hot now, my muscles strained against the mighty fish. Who would win?
The battle continued for what seemed like a long time. My excitement rose as I watch the fish jump into the air and continue its back and forth charging. I stayed intense pressing and slowly watching as the fish began to tire, realizing that I was rapidly gaining on the fish it was quite possible that I would win. Then it happened one final jump and a run toward me. I now had it at the side of the boat, and the fish was finally netted.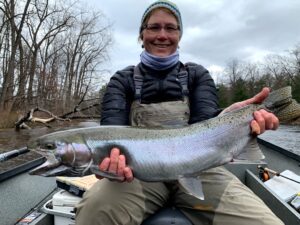 High-fives ensued throughout the boat along with happy smiles and quick pictures. The fish was amazing. Once we were done, we placed the fish on the side of the boat allowing her to rest. I watched as she gracefully swam away to continue her journey and maybe give another person the battle of a lifetime.