Joe Humphreys | Nymphing Techniques
The spring can be a challenging time for Trout fishing in Michigan. Temperatures are variable, and the spring rains add to the difficulty, causing a significant variation in water depths. This time of year can also vary in what you need to use to catch the trout. On warm days you may find an exceptional hatch of Bluewing Olives or another early hatch. Then on another day, you may need to fish deep. These are the colder days or when the water levels are high as the trout often hugging the bottom of the river during these times.
When water levels are variable, I have learned to master the skill of Nymphing and have found this a very successful technique. In this video, Joe Humphery, often called a legend in the flyfishing world, demonstrates the art of nymphing. So sit back, grab your favorite beverage, and learn from a professional!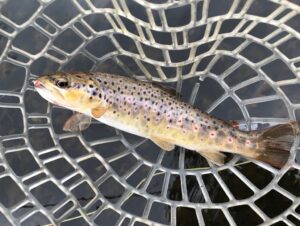 Brown Trout Caught Nymphing