Fishing Guides and COVID-19
In this life, we often have difficulties in this time of COVID-19; 
don't forget the other individuals that may be struggling.
I have to admit I was extremely disappointed when my annual Steelhead trip was canceled this year due to the COVID-19 virus. It is a trip with a bunch of Flygirls – a Michigan based fly fishing club – something that I look forward to all winter. 
Though, in my disappointment, I began to think about the guide service – This trip was scheduled through Feenstra Guide Services on the Muskegon River. Most of the guides through this service are men with families and young children. As with many other "non-essential" businesses, the DNR required the guides to stop guiding. This time of year is the Steelhead season and is generally a hectic time for our Michigan guides, and many of them are taking a hard hit financially. So when canceling your trips this year or when thinking of your summer plans – don't forget our local guides. 
If your scheduled trip is canceled due to COVID-19 reschedule the trip.

If you have given a deposit for the guiding consider rolling that over to your next trip – it is hard for the guide to repay the deposits – though they will – it is a burden on them at this time.

Take the time to learn some fishing etiquette – watch the rather funny video below.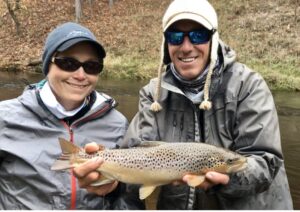 The author with the guide Frank – from Pere Marquette River Lodge
If you have any thoughts on helping our local guides please comment below.