Start Fly Fishing – Basic Equipment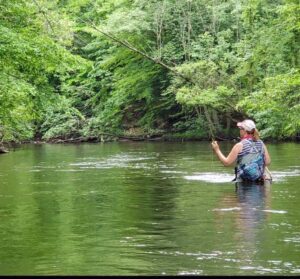 Equipment That is Necessary or Nice to Have
Fly Rod
–
this can be purchased as a kit or in individual pieces – rod, reel, and fly line. My first reel was one that I purchased a kit from Cabela's; it included everything I needed in one box. Eventually, I learned about specifics I liked in a flyrod and have since bought one that fulfilled my needs.
Flies
– look at where you plan to fish and find out what people are using in that area. My box always contains some basic flys such as a Hares Ear, Wooly Bugger, and a Parachute Adams. In the beginning, it is easier to purchase a few flies. As your skill grows, you might find it fun to tie your own flies.
Fishing Bag –
While you can carry your flies in a fly box, it is nice to have something to put your needed supplies in – I have an Orvis Sling Pack with the Fishe design. A perfect bag that is pretty too.
Net –
While some people do not use them, it is very nice to be able to catch and take a few pictures of your trophy trout.
A practice Rod
– this
is a stick with yarn and a small cluster of yarn at the end. You can make your own practice rod or purchase one. I spent hours in front of the television casting at an object – a shoe, a piece of lint, the front door. I was amazed at the improvement I made on the river after practicing at home. Orvis now sells a practice rod that includes a few velcro fish that you can aim for and catch.
Waders
– if you plan to fish Rivers or anywhere you will be going into the water waders are a necessity. They will keep your legs dry and warm. The nice thing about waders is they are now making many durable waders designed especially for a woman. They have waists intended for a woman's curves and colors that are pretty. A wader will come in stocking foot (without boots) or with the boots attached.
Wading Boots
– If you have stocking foot waders, you will need boots or shoes to wear in the water. They come in felt bottoms, rubber bottom, or with metal studs.